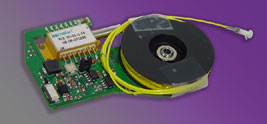 Customer specific SLD-source with depolarizer and mode-stripper
Fiberoptic broadband light sources make use of the Amplified Spontaneous Emission (ASE) within optically pumped rare–earth-doped fibers.
The spectral width of such light sources ranges by design from a few nm to the entire emission wavelength range of the dopand (e.g. erbium ions).
The optical power density of fiberoptical ASE-source is typically higher than that of broadband fibercoupled semiconductor based devices at an even lower noise level (RIN). This characteristic and the strong incoherence due to the absence of residual resonator effects make ASE-sources an ideal instrument in test and measurement applications.
C- and L-band sources are utilized for spectral characterization of optical components including the DWDM-market. Applications are also found in various White Light Interferometer based measuring instruments.
Product parameters fiberoptical broadband light sources
Parameter
Wavelength range
Power
Power density
Power stability*
Output isolation
Output connector
BBS CC 14 P5 FCP
1525 - 1565 nm
min. 14 / typ. 15 dBm
min. -12 dBm/nm
± 2.5 mdBm/15 min
> 30 dB
FC/PC
BBS CL 17 F3 FCA
1528 - 1608 nm
min. 17 dBm
min. -12 dBm/nm
± 1.5 mdBm/15 min
> 30 dB
FC/APC
BBS CL 18 W3 FCA
1528 - 1608 nm
typ. 18 dBm
min. -12 dBm/nm
± 2.5 mdBm/15 min
> 30 dB
FC/APC

Parameter
General all data @ 23°C

BBS CC 14 P5 FCP
Dimensions (WxHxD)
weight
Operating temperature
Humidity
Power requirements
BBS CL 17 F3 FCA
BBS CL 18 W3 FCA
145x100x17 cmm
< 500 g
0°C - 40°C
non-condensing
max 3 A @5 V DC
* after 1 h warm-up
Options
instrument-version (210x290x95 cmm) and customer specific packaging
spectral shaping possible
remote control (on request)
high-power versions (specifications to be discussed)
versions with Yb-doped fiber (1060 nm - region)