The firm Fibotec Fiberoptics GmbH was founded in November 2001 by its key-individuals and with venture capital provided by the MIC GmbH AG. Headquartered in Meiningen, the firm is located in the center of Germany. Meiningen has been an important location for the electronics-industry, and has become the headquarters of the Fiber Optics industry since the early 90´s.
Das Gründungsteam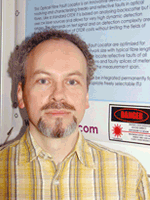 Dr. Stephan Schlemann
R&D Director
Dipl.-Ing. Mario Werner
R&D Electronics
Dr. Gerald Werner
Managing Director
Marketing & Sales
Milestones
Q1/2014
founder member of C3 e.V. (Carbon Concrete Composites)
Q1/2013
paper (coauthor) at the SPIE conference Photonics West
Q3/2012
paper at the IEEE conference AVFOP
Q4/2011
10 years in service for our customers
Q1/2011
Network Hybridsense presents itself with Fibotec
Q3/2010
Fibolocator interrogates multiple FBG at ofs in Edinburgh
Q4/2009
Correlation-OTDR (Fibolocator) at Innovation Fair Erfurt
Q2/2009
Correlation-OTDR application with Deutsche Bahn
Q4/2008
Network Adaptools presents itself with Fibotec
Q2/2008
Correlations-OTDR first time with cm - resolution at Optatec
Q2/2007
Extending European presence: France
Q1/2007
Completion of presence in North America and Mexico
Q4/2006
5. Birthday "Partners in Fiberoptics"
Q2/2006
First Private Label Product
Q1/2006
Introduction of Single-Frequency Light Source
Q2/2005
"Design-In" of the first "Fault Locators" for OEM-Clients
Q1/2005
Introduction of "MOPA-FL"
Q1/2004
Distribution of the first custom-designed Pulsed Light Source (MOPA-FL)
Introduction of the "Fault Locator" at the OFC (Los Angeles)
Q2/2003
"Design-In" of the first Laser source for the printing industry
Presentation of one of the prototypes of the "Fault Locator"
Q4/2002
Patent application for further development of the Correlation-OTDR
Q3/2002
Completion of the first external Development project
Q2/2002
Delivery of the first High Power-Light Source prototype for the printing industry
Q1/2002
"Design-In" of the first OEM-ASE Source