2016 - 2015
2016
11.11.16
A strong Team
It's our pleasure to inform you that all SmartM GmbH activities are integrated within the Fibotec GmbH yet. Fibotec's managing director Ronny Wozniza says:" It is pretty much clear to merge and work together in the future. Our business fields are complementary in an ideal manner. We are stronger together!" SmartM will be continued as registered trademark embedded in Fobotec GmbH.
02.11.16
Intouch fair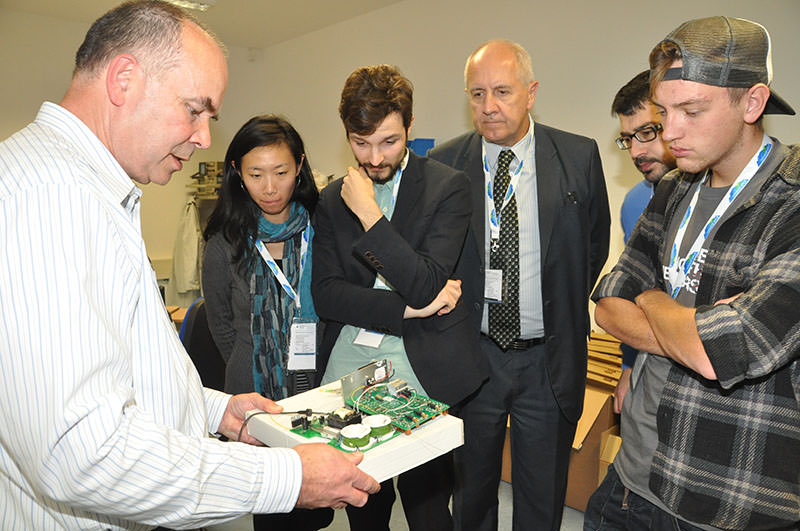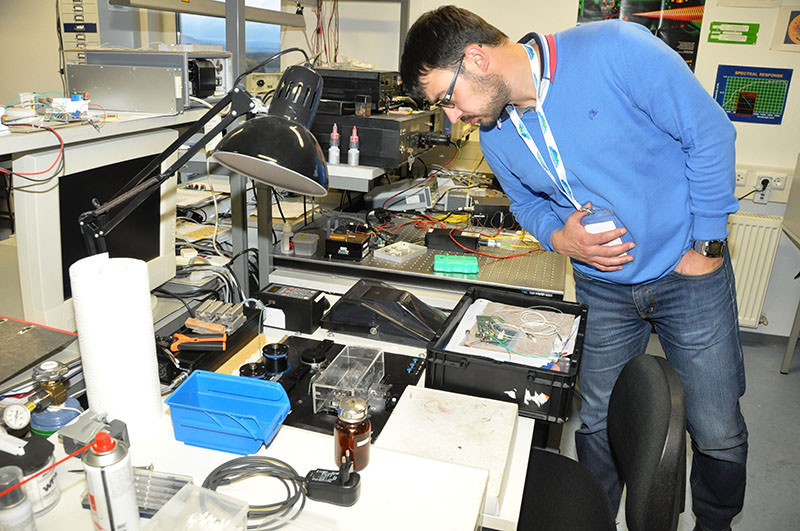 Thank you very much that you visited us at the Intouch fair on 2dn Nov 2016.
We hope you got plenty of new impressions and Information.
04.02.16
High Frequency Analog (Blue) Laser Diode Driver Module
This year Fibotec Fiberoptics presents a new laser diode module that is designed for high speed modulation of OSRAM PL TB450B laser diodes. The 1.6 A drive current can be modulated externally by an analog voltage input up to 80 MHz.
The main application for this product is fluorescence life time measurement.
Fibotec (Meiningen/Germany) is supplier of customized optronic solutions with a focus on fiber optics, widely used in test & measerement and sensing applications. The new product strengthens the competence of the company as a comprehensive supplier of light sources.
03.02.16
Compact Single Frequency 1645 nm laser @10 mW
This year with Photonics West upcoming Fibotec Fiberoptics releases a new fiber coupled laser. The compact package contains a laser operating at 1645 nm.
The laser provides >10 mW cw optical power in a single frequency operation, more than most available DFB laser diodes. The new laser is available with SMF and with PMF pigtail as a component or a module with driver solutions.
Fibotec (Meiningen/Germany) is supplier of customized fiber optical solutions, widely used in test & measerement and sensing applications. The new product strengthens the competence of the company as a comprehensive supplier of light sources.
2015
05.12.15
Awarding of Deutscher Nachhaltigkeitspreis
Germany´s largest research project in building construction C³-Carbon Concrete Composite was awarded the Deutscher Nachhaltigkeitspreis (German sustainability award) in the price-category reserach". The ambitious project with more than 130 partners in research and industry working on development and implementation of the new building material Carbon Concrete succeeded among 87 research project in this category.
The interdisciplinary project C³ – Carbon Concrete Composite is one in total 10 funded projects within »Zwanzig20 – Partnerschaft für Innovation« - a funding initiative of the Bundesministeriums für Bildung und Forschung (German Education and Research Ministry). Fibotec Fiberoptics is one of the C³-founder members and cooperation partner in optical measurement, in detail fiber sensing.


15.11.15
Year of Light
In the year 2014 Fibotec Fiberoptics initiated the city of Meiningen to celebrate the International Year of Light by a series of events. The place is hosting a cluster of fiber optic companies. Fibotec actively supported the organization of these events. A sequence of discourses had been prepared, and at the highlight "Meiningen leuchtet" an event for kids and teens had been organized in the evening of Oct 30th. The show experiments that had been supervised by students themselfes attracked a large number of visitors and got a very positive feedback. The Festival of Lights "Meiningen leuchtet" likely will be continued, and a part of the show experiments will be available to schools within the county for educational purpose in the future.
05.06.15
New Product at LASER: Laser Diode Driver
2015 Fibotec introduces two laser diode drivers with integrated sockets for diodes in butterfly package. The standard option is for diodes with "Pump Laser-Pinout" and operating current up to 2 A. The LTBiS is a modular system that is controlled through a serial interface exclusively. The system shown at Photonics West for the first time is not only available as a 19´´ option for max. 10 laser plug-in units, but also as a version for max. 4 plug-ins at the half total width. The LTBiS is a cost efficient, "small" solution for Burn-In and Testing laser diodes, and a lab-driver for laser systems that need an individual control of multiple pump diodes.
At LASER Munich the Socketdriver RMC as a flexible driver solution for single laser diodes has been shown the first time: Besides using the serial interface it is possible to set parameters manually and display it at the front panel. Both, LTBiS and Socketdriver RMC allow the solder-free operation at the integrated socket.
23.02.15
USA Sales
Fibotec Fiberoptics introduced the new modular laser diode driver (LTBiS) at Photonics West (San Francisco, 2015 Feb 10th-12th) and fixed cooperation with Timothy Clark as a West Coast representative in the US. Tim has an excellent technical background and experience both in optical communications and optical test and measurement. In recent years he supported the industry in active sales, and this combination is an ideal combination or Fibotec, extending the US-business in customer specific fiber optical solutions.
The LTBiS is a modular, remote controlled laser diode driver for BF-packaged laser diodes (medium power, up to 2.5 A drive current). A 19 inch housing accepts up to 10 modular plug-in units with sockets used for tucking the laser diodes. Operating conditions can be set and also read out via the serial interface (RS-232).